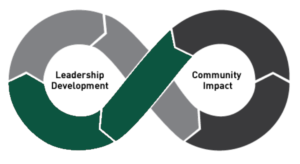 What Your Experience Will Be Like
Why Join the Junior League? Our Mission
The Junior League is an organization of women committed to promoting voluntarism, developing the potential of women and improving communities through the effective action and leadership of trained volunteers.
Development as a leader is intricately bound up in the work you do in the community as part of the League ─ that's our unique value proposition.
There are other women's leadership organizations out there and there are tons of volunteer organizations out there, but the Junior League  is unique because you get both, and you are surrounded by inspiring, like-minded women. We are NOT a social club or a direct service organization, and what you'll miss out on if you join those organizations and not the Junior League is the opportunity to build your skills through the work you'll do all the while making friends along the way.
Women come to us from all walks of life and in various life stages so whether you're an empty-nester, recent college grad or a newer mom, there is a place for you in the League if our Mission resonates with you.
Whether your primary motivator is to build a skill, give back with the skills you already possess or a combination, there are opportunities for you to accomplish those goals through your League involvement.
Benefits of Membership
The Junior League is a unique organization for many reasons, one of which is that you are provided with opportunities to try new challenges and to build new skills—opportunities you may not get in your place of employment or in your everyday life at all currently.
Through your involvement with the League, you will be giving back to the community while at the same time developing your civic leadership skills and making friends along the way!
Attend trainings
Participate in Learning Journeys
Connect to the community
Take advantage of Webinar Wednesdays
Develop civic leadership skills
Meet like-minded women
Receive Members-only discounts
Attend Regional events
Collaborate with a Mentor
Develop your skills
Attend Social events
Have fun!
What Your Experience Will Be Like
Engage in a 4- to 12-month process of learning about the League
Participate in training and General Membership Meetings (GMMs)
Volunteer for a Done in a Day project and at our fundraising resale store in Menlo Park, The Shop
Connect with fellow members at socials and events
The average time commitment is 4-10 hours per month
Fees for your New Member year are $176 membership and $90 course fee
The Process
Join our mailing list for an invitation to Meet & Greets and other events open to prospective members
Attend a Meet & Greet
Register to become a member
Pay your fees
Complete the New Member Course