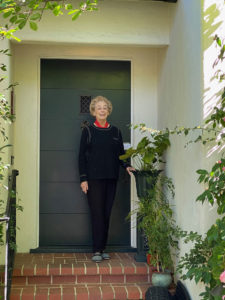 I joined the Worcester, Massachusetts Junior League (my mother made me) in 1951; transferred to the Syracuse, New York League in 1956; and in 1961 transferred into what was then the Palo Alto unit of the San Francisco Junior League.  For many years, I was the only Stanford University-connected member and I enjoyed being a contact between the university and the League.
When you join the League, you have a built-in way of establishing friendships within the League and in the community it serves.  You also open many avenues for work that interests and stretches you.  I might never have been a museum docent or learned how much art interests me without my League placement.  As Treasurer of the League I learned how to keep books which helped me in future jobs to understand budgets and company financing.  I learned from my League work and placements how to run meetings, speak in public, and develop new programs.  My League training made me successful at a number of community board positions and I later became a Community Advisor for the League.
When I went back to paid work in 1976, those skills were immediately useful and helped me eventually to qualify for the job that became my passion – Director of Community & Patient Relations at Stanford University Hospital.  My community connections were essential in establishing links with patients and their families and with our local public. They also made possible new projects such as patient advocacy, Stanford's Health Library, senior services, art and music among others.
Friendships that began because of my League membership have continued to sustain me throughout my life. The skills I first learned in the League have been honed by time and experience and have enabled me to become a mentor and advisor to others.  (Thanks, Mum.)
Jeanne D. Kennedy
4/2/2020